Pinemeadow Excel Monterossa Hybrids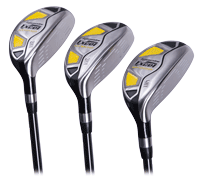 The Pinemeadow Excel Monterossa Hybrids give players control, distance and maximum playability on the course. These hybrids are designed to make the game easier for you and to replace the harder to hit lower irons.

The low-profile face of the club allows you to get the ball in the air creating a high launch without losing distance. You'll find the ball flight is a good fit for hitting off the tee on par 3s or hitting approach shots to the greens. We've also found these hybrids a perfect solution off the tee on short but narrow par 4s where it is important to hit the fairway. As you can see these hybrids provide versatility in your bag helping you improve your game.

More Pinemeadow Excel Monterossa Golf Clubs
Compare features, performance and price to the Callaway® hybrids.
Built standard with your choice of a low-torque Pinemeadow Hybrid graphite shaft or Apollo Lite steel shaft.
We highly recommend a graphite shaft on all hybrid golf clubs.
| Club | 2 | 3 | 4 | 5 |
| --- | --- | --- | --- | --- |
| Loft | 17° | 20° | 23° | 26° |
| Lie | 59° | 59.5° | 60° | 60.5° |
| Weight | 230 | 235 | 240 | 245 |
| Face Angle | 0 | 0 | 0 | 0 |
| Volume | 130 | 125 | 120 | 115 |
Shaft and Grip:

Material:

431 Stainless Steel
Displaying reviews 1 - 5 of 6 in total
Pat rated this product

on 08/13/21 I purchased the 2 hybrid and I absolutely love it. I really helps on those long fairways where I need a straight second shot. Highly recommend.
Jay n/a rated this product

on 10/06/19 I recently purchased the #3 hybrid, with standard regular flex graphite shaft, seeking a club to replace my 3 iron. I ordered the club on a Tuesday and received it only 3 days later, normal shipping, on Friday, (I live in the east). I hit it for the first time yesterday at the range before playing. Bottom line: Brand name 5 wood out of the bag and this club in. I hit this club further than I wanted to! OH well, I guess I'll just have to buy the #4 hybrid to replace my 3 iron. I am a repeat customer and have been for years. Pinemeadow Golf has never disappointed me.
Jamie Robinson rated this product

on 06/08/19 Received my hybrid today it was in excellent condition did some practice hits with it it felt great liked what it did its going to take time to get used too because its new but its going to help me with my 2nd shot with long fairways i will recommend to any golfer very good product
Myoung Kim rated this product

on 03/12/19 I got this 2 HY customized length & grip and played it for 18 holes today finally.... fully satisfied with weight, distance, kick, and hitting sound ! I have Nike 2 HY with fujikura lite shaft, but this one is much easier to hit and distance is around 20 yards longer. This might be my stable 2nd shot wand for par 4 or 5 holes. And also thanks for swift and nice response during purchasing.
Dan Mac rated this product

on 09/16/11 I got this (2 Hy) club to go with the monty irons. Great club for 200yds because I can't hit a 3 or 4 iron to save my butt. This 2Hy was the answer to my prayers to the golf God! in the low or high grass the club seems to be the answer. Thanks again Pinemeadow great club!
Displaying reviews 1 - 5 of 6 in total