Command Q Titanium Irons
Whoops!
You've found a product that we no longer carry. We appreciate your interest and encourage you to explore the rest of our site by clicking here. For help finding a similar product or other questions, please contact our customer service team.
Introducing the Command Titanium irons, the latest in our best-selling line. Unifying titanium iron technology with the wider soles of more modern irons creates a larger sweet spot for a more forgiving iron, perfect for all players looking to improve their iron game.
Titanium Face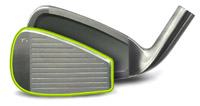 The 5, 6, 7, 8 and 9 irons merge a 6-4 titanium face into a 431 stainless steel body to provide an increased rebound for superior distance. By having a lighter and thinner titanium face in the irons it allows the weight of the club be pushed to the perimeter of the club maximizing the sweet spot.
Since a softer feel is important when you are playing around the greens, the PW, AW and SW do not include a titanium face. We also want the extra weight to improve the launch angle, which is normal for all iron sets.
Perimeter Weighting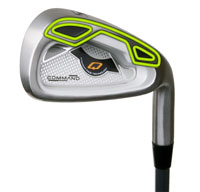 When you strike a golf ball, contact is made at the sole of the club. To increase the sweet spot, and create a more forgiving club, we want to move the weight closer to where the ball is at impact. Towards this end, we have incorporated the one-two punch of a mid-size sole and lighter, titanium, face.
The mid-size sole of the club helps most golfers hit the ball cleaner. This has really helped improve iron play for all golfers.
The titanium face is lighter, allowing the weight to be distributed where it is more effective. This increases the MOI and creates a larger, more forgiving, hitting surface throughout the entire face.
Complete the Set to Fit You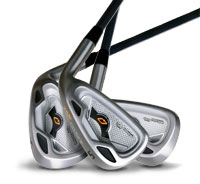 You may have noticed the unique configuration of this set, with 5-PW, AW and SW. We want to give you the flexibility to pair these clubs with hybrids, giving you the best fit for your game.
Command Q Ti Hybrids and Hybrid are also available in a 2, 3, 4, 5 and 6 loft.
More Command Q Ti Golf Clubs
Built standard with a Pinemeadow Steel shaft from Apollo®, a 125 gram shaft with a low to mid kick point. Also available with our standard low-torque Pinemeadow Graphite shaft for only $7.50 per shaft.
Set is available in a 5-PW or 5-PW, AW and SW.
Compare features and performance to Taylor Made® Burner Irons.
| Club | 5 | 6 | 7 | 8 | 9 | PW | AW | SW |
| --- | --- | --- | --- | --- | --- | --- | --- | --- |
| Loft (deg) | 25 | 28 | 32 | 36 | 40 | 45 | 50 | 55 |
| Lie (deg) | 62 | 62.5 | 63 | 63.5 | 64 | 64.5 | 64.5 | 64.5 |
| Offset (mm) | 5 | 4 | 4 | 3.5 | 3 | 2.5 | 2 | 1.5 |
| Weight (g) | 258 | 265 | 272 | 279 | 286 | 293 | 293 | 300 |
Shaft and Grip:

Body Material:

431 Stainless Steel

Face Material (5-9 Irons only):

Beta-Titanium
Displaying reviews 1 - 5 of 47 in total
Malcolm rated this product

on 12/09/21 Hi friends, nice piece of writing and nice arguments commented here, I am actually enjoying by these.
Ed Jones rated this product

on 09/27/14 Received the Command Q irons in a timely manner and found them to be exactly as promised and well worth the money. The ball goes long and straight most of the time. When it doesn't, it's not because of the clubs, it's because of LOFT (lack of frigging talent). Thanks
Ed rated this product

on 01/31/14 Love these irons. I was playing with an old McGregor Golden Bear set that I'd had for probably 20 years and an upgrade was in order but I didn't want to spend a lot of money. I've bought a couple of Pinemeadow products before and loved them. I am about a 15 hcp now and in my 60s, do I really need a set of Pings or whatever? These clubs are fantastic, I can hit them a ton (for me) plus I was able to add an inch to them for my height and have Lamkin grips put on which I like. They are a 6-10 stroke improvement in my game. I just rec'd the Command Q Ti 460 driver last week and can't wait to go smack a ball with it when the snow melts. I have the BK driver in Florida and love it but am looking forward to the CQTi.
Vince rated this product

on 01/22/14 I lost my 7 iron. No problem. They not only replaced it but maintained my order information of several years prior and custom made it to my original specifications. Cost about $30 including shipping. Try that with a big brand name. I don't think most of them even replace individual irons. I've noticed guys with a mismatch here and there with expensive brand names. These irons are as good as any cavity back iron on the market. All the rest is the usual snob mentality and promo hype that goes with golf clubs. I like these clubs and will only replace them if they get too beat up... probably with the same ones. Something to consider.
Dylan rated this product

on 05/25/13 This was my first time owning my own clubs. I am admittedly a beginner but I have played in the past a bunch of times (usually renting clubs, sometimes crap, sometimes brand new). Needless to say, these clubs are awesome. I still am working on my swing and grip and all of that good stuff, but I can say without a doubt that the clubs feel great, natural and with my choice of grip, they feel really good in my hands. You all know that feel from hitting the ball well and I can honestly say I have had the majority of my good or good "feeling" hits with these clubs. The price was great and I got them during a sale period so I payed around 50 bucks less than I would have had I not taken advantage of the generous sale. I am planning on getting a qti hybrid or two, a driver, a Cleveland style wedge and a putter all from pinemeadow as soon as I have the money. Love this company!
Displaying reviews 1 - 5 of 47 in total