Driver and Fairway Wood Headcovers
Pull over golf headcovers with PinemeadowGolf.com logo. Driver cover fits all drivers including oversize volumes up to 500cc. Also available in a 3, 5 and X headcover. Black fitted body with embroidered Pinemeadow logo, club numbers and clear piping.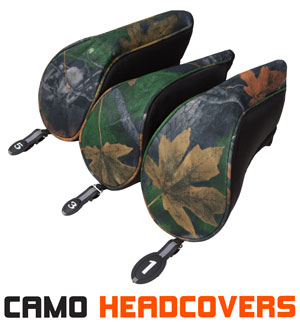 Displaying reviews 1 - 5 of 7 in total
Micheal G. rated this product

on 11/11/19 Received the two club Head Covers you sent …….Spot on Guys ……. Couldn't have asked for anything better. Many, Many thanks for finding exactly what I needed. Great Price, Excellent Service ! Whatever other business I can send your way, You Got It !!
Tom reviewed this product on 02/25/16 Been looking for weeks for a nice set of head covers 1 3 5 come across the Pine meadows site saw these ordered them fit perfect I live in Michigan only took 2 days to get here great product
Sean rated this product

on 06/20/13 I bought the Yukon fairway woods off this site, which I am 100% happy with. I decided to buy these head covers, because I've never had any good head covers. These things fit my new woods great! They go on very easy, and I had no problem putting them on after hitting each club. It's quick, so I can get them on fast and move to my next shot. It allowed me to keep my new woods protected. These covers also feel good. I love the soft material and the logo is not cheap looking. Very professional looking. So glad I bought them.
Cooper The Beagle rated this product

on 11/15/10 By far the best value for the money. Excellent fit/finish. Do not second guess purchasing the head covers - they are a decision you will be pleased with.
John rated this product

on 07/27/09 These are awesome for the money. I looked around locally before I purchased these but couldn't touch the price. Also bought the hybrid head covers and matched them to my golf bag. Five covers for less than $30. Great Deal!!!
Displaying reviews 1 - 5 of 7 in total