Realtree Hybrids
Continuing our partnership with Realtree, featuring an exclusive collection of products dressed in your favorite Realtree pattern, we are pleased to introduce our new Realtree Hybrid. Take your favorite brand to the links.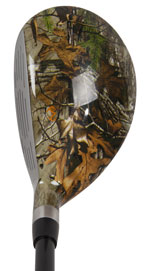 Players at every skill level are replacing harder to hit, lower numbered, irons with hybrids. They're more forgiving, easier to hit, and add distance to help improve your game. These hybrids feature a low profile face which allows you to get the ball up out of any type of lie. The versatility of a hybrid is second to none, so they can be used off the tee and all the way up to chipping around the fringe of the green.
Custom build the club that best fits you and get out and play!
Finish
The crown of the hybrid features the Realtree Xtra® Green Camo print popular with outdoor enthusiasts during the fall through late spring. This is the first hybrid to ever feature this finish. You can see the detail of the leaves, colors and branches that make this print so popular.
Realtree Collection
Available in our limited edition matte black Realtree shaft (Regular Flex Only)
| Club | 3 | 4 | 5 |
| --- | --- | --- | --- |
| Loft | 19&deg | 22&deg | 25&deg |
| Lie | 60.5&deg | 61&deg | 61.5&deg |
| Weight | 242g | 249g | 256g |
| Face Angle | 0 | 0 | 0 |
| Volume | 120cc | 118cc | 116cc |
Shaft and Grip:

Material: 431 Stainless Steel
Peter Smith rated this product

on 08/18/21 The Real Tree hybrid 3 has the loft, bounce and feel I wanted. I'm not fond of the camo, but the price was right. My only complaint is the head cover that came with the club: It is not the Real Tree cover in your description, instead it has the Pine meadow cover. Not only the wrong cover, but to remove it I had to step on the club head and yank with great force on the cover. There's no way to put this head cover back on the club head because it has no stretch at all. It's not that big a deal with me, I just thought I'd let you know. I purchased a set of Command BK clubs (black) many years ago and they are great, especially the driver and the irons. They have stood the test of time and my incredible slice completely disappeared. I would and do recommend Pinemeadow golf clubs to anyone who will listen. Peter Smith
Joe rated this product

on 04/30/21 My first Pinemeadow club. Im a 12 handicap. Picked this one up about a year ago after watching my playing partner smash his cobra hybrid. I have never owned a hybrid and didn't want to spend big bucks in case I didn't like hybrids. I would stack this hybrid up against any on the market. Its a bit heavier than others I've tried (Callaway in particular), personally I like that, I feel like the extra weight let's me dig out nestled shots with ease.
Malcolm Woody rated this product

on 08/09/20 Bought the Realtree 4 hybrid, and the shaft broke at the head about the 3rd time out. At least I didnt pay much for it.
Preston Hale responds with Please contact us about setting up a return. We will repair this. Thanks
Mary rated this product

on 04/07/20 I have been playing with the Realtree 5 hybrid and I have to say it is so easy to hit and control. I love that club. Too bad there isn't a better way to market it because it is an awesome club. And, at an AMAZING price!!! My Realtree 3 and 4 hybrids were delivered today and I can wait to hit them this week! I am so happy I found your Company!