Pinemeadow PGX Putter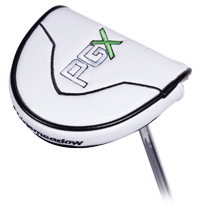 The putter features a precise white finish which stands out when the putter is in the address position on the green. This contrast of the white color against the green grass really helps maintain focus on the alignment lines that help ensure that your putter is on target at start.

At 380g the additional 40g weight of the mallet putter is "tour-weighted", suited best for the faster greens that are more and more common around the world. You'll also get a smooth forward spinning ball at impact with reduced skid giving you stability in your putting game.

White Nano Paint Disclaimer
The white color on this putter model is designed to enhance aim and improve vision clarity at address. Using a head cover is strongly recommended to protect the white finish from dings, scratches and other marks that come in contact with the head. Any cosmetic damage will not effect the performance of the putter nor is subject to warranty coverage.
Compare features, performance (and price) with Rossa® Ghost Putter at $159.
Includes custom headcover
| Club | Putter |
| --- | --- |
| Loft | 3 |
| Lie | 90 |
| Weight | 380 |
| Men's Std. Length | 34″ |
| Ladies Std. Length | 33″ |
Shaft and Grip:

Finish:

White

Custom Fitting Note:

The putter can't be built at +1.5" the longest the putter shaft will allow us to go is +1.
Displaying reviews 1 - 5 of 119 in total
MW rated this product

on 03/20/23 I like the weighted head feel. This is my first mallet type putter and I have to get used to the feel. Always used Ping blade putters. Couldn't get the pick-up feature to work using Callaway and Srixon balls consistently, 1 out of 10 try's. Didn't buy putter for this feature and I am pleased with results of using this putter! Very Happy!
Nadine rated this product

on 09/21/22 I have 7 8hybrid putter and pitching wedge. I used to fill some gaps. I am female but use mens reg flex. I'm 53 and these clubs perform great. I shoot in the mid to high 80s and find my approach shots from 110 in much improved. Thank you for a great affordable option
Bruno Nanni rated this product

on 09/08/22 I've had this putter for over a month now. I do t typically buy clubs online because it's better to be able to test then before you buy. But I liked the looks of this PGX putter and it was pretty cheap. I won't lie to anyone and say this putter will shave 10 strokes off your score. You still need to hit greens, read them properly and hit the putt on the right line with the right speed. But what I can honestly say is that I'm way more confident with this putter. I have not missed a putt from 5 feet or less with it and make most of putts from 10 feet. What all golfers need is confidence and I can say that I very confident over every putt and I make a lot more than I used to.
David rated this product

on 08/31/22 I went out to the practice green at a local golf course and with the first ball I lined up an 18 foot put and drained it. This putter and I are now best friends. Thanks!
Mike Witham rated this product

on 07/28/22 Bought a couple of years ago and echo positive comments. Unfortunately used yesterday and for unknown reason the shaft broke in two. And I was having a really good putting day!!
Displaying reviews 1 - 5 of 119 in total