Pinemeadow PGX Putter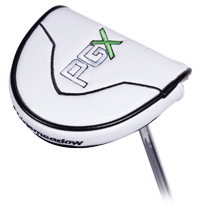 The putter features a precise white finish which stands out when the putter is in the address position on the green. This contrast of the white color against the green grass really helps maintain focus on the alignment lines that help ensure that your putter is on target at start.

At 380g the additional 40g weight of the mallet putter is "tour-weighted", suited best for the faster greens that are more and more common around the world. You'll also get a smooth forward spinning ball at impact with reduced skid giving you stability in your putting game.

White Nano Paint Disclaimer
The white color on this putter model is designed to enhance aim and improve vision clarity at address. Using a head cover is strongly recommended to protect the white finish from dings, scratches and other marks that come in contact with the head. Any cosmetic damage will not effect the performance of the putter nor is subject to warranty coverage.
Compare features, performance (and price) with Rossa® Ghost Putter at $159.
Includes custom headcover
| Club | Putter |
| --- | --- |
| Loft | 3 |
| Lie | 90 |
| Weight | 380 |
| Men's Std. Length | 34″ |
| Ladies Std. Length | 33″ |
Shaft and Grip:

Finish:

White

Custom Fitting Note:

The putter can't be built at +1.5" the longest the putter shaft will allow us to go is +1.
Displaying reviews 1 - 5 of 113 in total
Scott Walker rated this product

on 03/12/22 Took a chance on this putter and couldn't be happier. Love the extra weight makes the stroke so much smoother for me. Don't be afraid to give it a try.
Chris rated this product

on 08/27/21 I'm 6' 2" wrist to floor is 38". ordered plus 1", 3.0 tour grip and I love it. Haven't got to play a round yet but I have a practice putting carpet and it feels amazing smith roll. Looks good, got a small blemish in one of the lines nothing major. Even some 200-300$ putters get that sadly. Will update after I play it a few rounds.
Joseph Green rated this product

on 07/30/21 I had this putter and wanted to see what a little upgrade might do after playing with this putter for almost 2 years. I gave my old putter to my girlfriend for safe keeping and she loves it. I went out and bought a Cleveland TPI Halo, after awhile I was missing the feel of my old putter. I like weight in my putter but have to have that feel with it. This putter is excellent for feel, sound wise I like it as well. Has a smooth stroke from take away to release. I couldn't get my putter back from my girlfriend so I bought another one of these. Great product, always have my buddies or my playing partners give it a few shots. For the price its a must have, especially if your not out trying to spend a arm and leg for a putter. I did add the 2.0 Superstroke Traxion grip for the extra money, it is well worth the cost.
Billy Okubo reviewed this product on 02/21/21 Can I get one with a 48 inch shafts with heavier weight?
Josh rated this product

on 01/05/21 I got it for my brother in law and he loves it.
Displaying reviews 1 - 5 of 113 in total