Pre Bronze Wedge
The newest member to the PRE family. The wedge features a wide sole at the bottom of the club head which narrows towards the toe to provide a more forgiving hitting surface. Combine this proven shape and bounce design to provide accurate play from any lie. Features a bronze finish for a sleek look.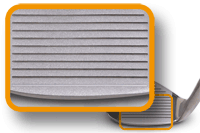 Club Face Image
Pinemeadow Nation, thanks for the feedback, here is the image you asked for. Our wedges, like most others in the marketplace today, feature "U" groove technology.
Custom build with a high quality Pinemeadow steel from Apollo®, a 125 gram shaft with a low to mid kick point for the same $49.95 value, perfect for the beginning to average golfer.
Built to Men's Standard Flex and Length
Club
AW SW
LW
Loft (deg)
52 56
60
Lie (deg)
64 64
64
Weight (g)
300 300
300
Bounce (deg)
8 12 6
Settimo rated this product

on 01/27/18 Three months ago, I picked up the 60 degree wedge and wanted to wait until I used it consistently prior to review. The wedge has a good weight and the bronze finish helps me line up my shots at address with ease matched with the white grooves. As both have mentioned below, the finish has been wearing down along the base of the club head. Having used it for a quite a few high bunker shots, the sand has treated it a bit like sandpaper. However, the club performance has not at all been altered by this fact. A $35 wedge that I love. It is a consistent performer that I will put up any day against higher priced wedges. Another great club, Pinemeadow!
Paul Mailly reviewed this product on 08/15/16 The wedges are awesome. Before i received my clubs i played with several rented ones. Had problems in bunkers but with these 2, no problem at all. Smooth as silk, my bunker shots are now.
Don rated this product

on 04/07/15 I got all three wedges in the bronze. I really like the set, they seem to play well and look good in the bag. Only downside is the finish on the sand wedge is already worn off. I sort of wish I'd got the chrome for that reason.
Lawrence Williams rated this product

on 11/19/14 Looks like I may be the first review of this club. I'm 68 years old and just getting back into golf after not playing since my 20's, so I consider myself a beginner, pretty much, though I do have a swing and some (distant) past experience. I'm shopping for a set of clubs and have never bought clones or any clubs online. I decided to give this club a try on sale--not much to lose on a roughly $20 club! I'll start my review by saying that Pinemeadow's order and followup service lives up the positive comments I've read online. I ordered my Pre Bronze wedge in a 60* loft. I've only had it a couple of weeks, so this review isn't based on in-depth experience with the club. The club looked great when it arrived, though the milling on the toe of the face outside the strike zone looked a little uneven. Not too bad, though, and didn't look like it would drastically affect the club's usability. The bronze anodizing, however, is already wearing off the bottom and lower club face, and I've been playing it only in grass or sand--no bare ground, astroturf, etc. It still looks pretty decent, however, and I find I like the feel of this club better than most of the rental wedges (including major name-brands) that I've been batting around lately. That being said, however, I do seem to be having a little trouble getting consistent shots with my Pre wedge, but keep my age and newbieness in mind if you're evaluating the club based on my review. It could be that I'm just not that used to such a high loft--might have done better ordering it a PW or AW loft. The club does feel solid, and I'm beginning to develop more feel for it and more awareness of its appropriate uses. I expect that over time we'll both get used to one another, and that my consistency with the club will improve. I also ordered a Xeon 9 putter that I'll review separately on it's appropriate page, and I really, really like it. If I were doing it all over, I would still take a chance on this Pre Bronze wedge. Seems like a good value for very little money, whether it turns out to be a favorite iron or just another club I use sometimes.