Pre Wedge
The Pre wedge features a wide sole at the bottom of the club head which narrows towards the toe to provide a more forgiving hitting surface. Combine this proven shape and bounce design to provide accurate play from any lie.
Club Face Image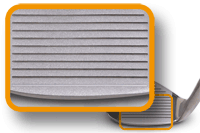 Pinemeadow Nation, thanks for the feedback, here is the image you asked for. Our wedges, like most others in the marketplace today, feature "U" groove technology.
Custom build with a high quality Pinemeadow steel from Apollo®, a 125 gram shaft with a low to mid kick point for the same $34.95 value, perfect for the beginning to average golfer. Graphite is also available for $7.50 more per club.
Available in 52, 56, 60 and 64 degree loft.
| Club | AW | SW | LW | UW |
| --- | --- | --- | --- | --- |
| Loft (deg) | 52 | 56 | 60 | 64 |
| Lie (deg) | 64 | 64 | 64 | 64 |
| Weight (g) | 300 | 300 | 300 | 300 |
| Bounce (deg) | 8 | 12 | 6 | 4 |
Shaft and Grip:
Displaying reviews 1 - 5 of 69 in total
John Shattuck rated this product

on 04/11/21 I purchased the 60,56 & 52 Pre wedges several weeks ago and I'm very pleased. I've been to the driving range several times and played 6 rounds of golf with them. I'm striking the ball much better as indicated by the divots and distance has increased about 10 yards for each club. The heads are heavier than my old wedges and feel very comfortable. I purchased 3 hybreds several years ago and I'm I'm very pleased with them. Purchased the PGX 500 a few minutes ago and looking forward to getting the same outstanding results as I have with my other purchases.
Sweet Lew rated this product

on 04/05/21 After a family member had tried my Pinemeadow wedge out on the course they knew they needed a Lob (60deg) in their bag...bought them the Pre wedge and they're loving it. Great product at a great price.
William rated this product

on 02/10/21 The club arrived the day before my last round. It worked awesome. I have been playing with Pinemeadow clubs for the last 6-7 years and have loved them. Looking forward to upgrading them in the up coming months.
Jeffrey Prescott rated this product

on 12/19/20 I'm curious. I bought a set of Pre SS wedges in 52, 56 and 60 degree. I have the Apollo shafts. Can someone tell me the length of these clubs? I've measured them but just want to hear what the official standard lengths are. Thanks. Jeff
Gustavo Lozano rated this product

on 01/31/20 I just receive my new wedges (52,56,60,64), I played yesterday and I did my best score in months!!!. I used all of them, the feeling is very good, they gave me good distance and in the short game around the green they gave me very good results. I´m a 6 handicap, I took away the long distance irons and I put the wedges instead. The relation between price and quality is great, I was thinking to buy a Titleist or a Cleveland but for the price of one I bought 4. Now I´m sure I did the right thing. Regards.
Displaying reviews 1 - 5 of 69 in total