Command Q4 Driver (LH Only)
Whoops!
You've found a product that we no longer carry. We appreciate your interest and encourage you to explore the rest of our site by clicking here. For help finding a similar product or other questions, please contact our customer service team.
An updated version of the hottest driver Pinemeadow has ever offered has arrived! New designed and technologies will improve distance and control. The Command Q4 by Pinemeadow Golf is the benchmark in titanium driver technologies. The moveable tungsten and steel weights create customizable launch angles and ball flight options. Six weight configurations give you total control of your game.
Adjustable Weight-Port Technology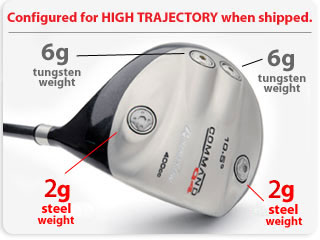 The driver includes two (2) six gram tungsten weights and two (2) four gram steel weights pre-installed. The position of the weights in the club head determine ball trajectory.
---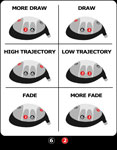 Click on the image to the left to launch the weight setup tool to help you position the weights. The weights require a wrench that is included with the driver to move the weights around. Please be careful when removing the weights.
More Command Q Golf Clubs
Fitted standard with our low-torque Pinemeadow Graphite Shaft for the same $89.95 value.
Compare features, performance and price to the Taylor Made® drivers.
Club
1
1
1
Loft (deg)
10.5
12
Lie (deg)
59
59
Face Angle (deg)
0
0
Weight (g)
200
200
Volume (cc)
400
400
Shaft and Grip:

Face:

Beta Titanium

Body:

100% Titanium
Displaying reviews 1 - 5 of 183 in total
Parker Baggett reviewed this product on 05/08/16 I am a beautiful person.
Evan reviewed this product on 01/25/16 My wife got me this driver for Christmas. I needed different length, flex, and grip size, so I ended up re-shafting with a Matrix MFS 40+ shaft and a Lamkin Crossline oversize grip. I've never had a quality issue with PM, and this was no exception. It was well packaged, arrived pretty quickly, and looked perfect. It's obviously still winter, so I haven't played any rounds, but I have hit a few balls in the field behind my house. With the new shaft, the ball flight stays fairly low, and my normally extreme slice seems to be reduced a great deal. I'm looking forward to playing with the weights and seeing if that has any effect. I like the smaller 400cc head, and it makes a much more pleasant sound than the clank of the square Excel Lightning it's replacing. So far, I'm pretty happy with it, but I'll post a follow-up review once I've gotten some rounds in.
David rated this product

on 04/18/15 I have been playing with this club for 3 years now. i have tried name brand clubs like Taylor Made, Callaway, and Cobras and none hit true like this club.I only wish Primemeadows would make more drivers in a 400cc head. This is the only 400cc. I dont like the large 460cc drivers and they feel large and clunky with to much drag in my downswing.
Doc rated this product

on 04/02/15 Just got it yesterday afternoon. fit and feel are great. Hit one ball out of the front yard, no warm-up, barefoot, no glove. 200+ yards even with my 68 year old slow swing speed. Thunderstorms today. Can't wait to play it. gotta search thru the toolbox to find a "bit" to change weights, though. need a bit less fade and more loft. My second deal with Pinemeadow and probably wont be the last, but I am getting old!
Carlos Acevedo rated this product

on 02/23/15 I have had this Driver for about two years and I loved it. I also have the entire set for the Q4. This past weekend I found a crack at the lower part of the head close to the face. Now I have to look for another driver, but afraid to get the same one even if I like it. I see other customers with the sane probel. Is there a update on this issue? Soemthing covered by warranty? I'm looking for a repalacement for me and one fro my wife.
Displaying reviews 1 - 5 of 183 in total